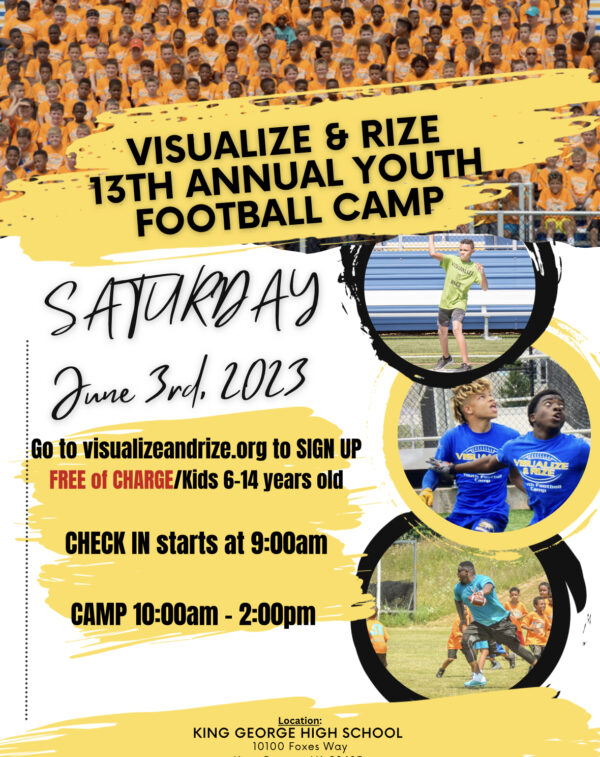 THE 13TH ANNUAL VISUALIZE & RIZE FOOTBALL CAMP WAS A SUCCESS!
THANK YOU FOR YOUR CONTINUED SUPPORT!
OUR SPONSORSHIPS & MERCHANDISE
OUR
MISSION
THE MISSION OF THE VISUALIZE AND RIZE FOUNDATION IS TO SUPPORT YOUTH SPORTS AND EDUCATION PROGRAMS, TO ENABLE STUDENTS AND PROVIDE THEM WITH THE NECESSARY TOOLS TO FACILITATE THEM TO REACH THEIR FULL POTENTIAL AND MORE.
V&R
IMPACT
Over 250 scholarships awarded

13 communities+ impacted (Virginia/Chicago/Miami/New Orleans)
Support of King George High School Athletics
Christmas Toy Drives in Virginia, Chicago, Miami, and New Orleans
Provide meals during the holiday season
Wolf-Hirschhorn Syndrome Awareness
Provide assistance to families affected by Wolf-Hirschhorn Syndrom
FOOTBALL CAMP
jcoleman
2023-05-30T10:46:00-04:00
GOLF TOURNAMENT
jcoleman
2023-03-17T11:58:56-04:00
HOLIDAY EVENTS
jcoleman
2020-05-10T14:25:46-04:00
SCHOLARSHIP RECIPIENTS
jcoleman
2020-08-14T00:30:17-04:00
WOLF HIRSCHHORN AWARENESS
jcoleman
2020-06-29T06:30:24-04:00
V & R ADVISORY COMMITTEE
jcoleman
2021-05-11T00:14:46-04:00
MERCHANDISE
jcoleman
2021-07-05T03:32:00-04:00